Will the New iMac show its True Colors at Apple's Spring Loaded Event?
Another "credible" leak sited by MacRumors now predicts possible new iMac color palette
According to Mac Rumors, a Reliable leaker whose twitter handle is @L0vetodream hinted, via the juxtaposition of the classic "like a rainbow" images of the, then-state of-the-art, G3 iMacs alongside the colorful "Spring Loaded" graphic that accompanied the initial announcement of the April 20th event.
The obvious implication is that Apple may debut its rumored redesigned and colorful iMac at its "Spring Loaded" event on Tuesday.
This comes after a previous story which also cited a credible source, where the new iMac were said to likely not only have an "M series" chip, which everyone by now expects, but would also be "really big", that is, a size larger than the current max 5k versions.
In the above tweet, the leaker posted an image of Apple's logo used for marketing the upcoming event and an image of the retro rainbow Apple logo alongside the colorful lineup of G3 iMacs.
It was also stated in the MacRumors article that: "Apple leaker Jon Prosser previously reported that these upcoming iMacs would debut in various colors, a throwback move to the G3 ‌iMac‌."
As can be seen from the image concept render above, and the MacRumors concept for colored iMacs below, there is a lot of excitement building for this announcement in particular and the event in general.
With the additional rumor of a larger size in the mix also, it's worth tuning in on Tuesday to get the full skinny right from Apple, in real time.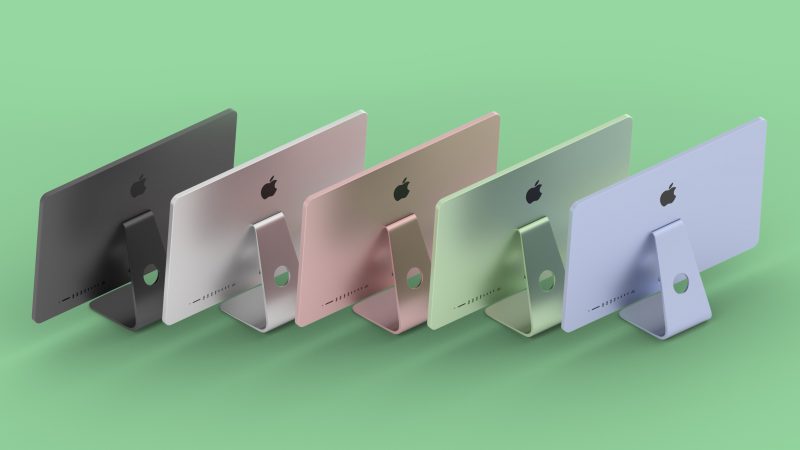 ---
Find books on Music, Movies & Entertainment and many other topics at our sister site: Cherrybooks on Bookshop.org
Enjoy Lynxotic at Apple News on your iPhone, iPad or Mac.
Lynxotic may receive a small commission based on any purchases made by following links from this page