Will the New iMac show its True Colors at Apple's Spring Loaded Event?
Another "credible" leak sited by MacRumors now predicts possible new iMac color palette
According to Mac Rumors, a Reliable leaker whose twitter handle is @L0vetodream hinted, via the juxtaposition of the classic "like a rainbow" images of the, then-state of-the-art, G3 iMacs alongside the colorful "Spring Loaded" graphic that accompanied the initial announcement of the April 20th event.
The obvious implication is that Apple may debut its rumored redesigned and colorful iMac at its "Spring Loaded" event on Tuesday.
This comes after a previous story which also cited a credible source, where the new iMac were said to likely not only have an "M series" chip, which everyone by now expects, but would also be "really big", that is, a size larger than the current max 5k versions.
In the above tweet, the leaker posted an image of Apple's logo used for marketing the upcoming event and an image of the retro rainbow Apple logo alongside the colorful lineup of G3 iMacs.
It was also stated in the MacRumors article that: "Apple leaker Jon Prosser previously reported that these upcoming iMacs would debut in various colors, a throwback move to the G3 ‌iMac‌."
As can be seen from the image concept render above, and the MacRumors concept for colored iMacs below, there is a lot of excitement building for this announcement in particular and the event in general.
With the additional rumor of a larger size in the mix also, it's worth tuning in on Tuesday to get the full skinny right from Apple, in real time.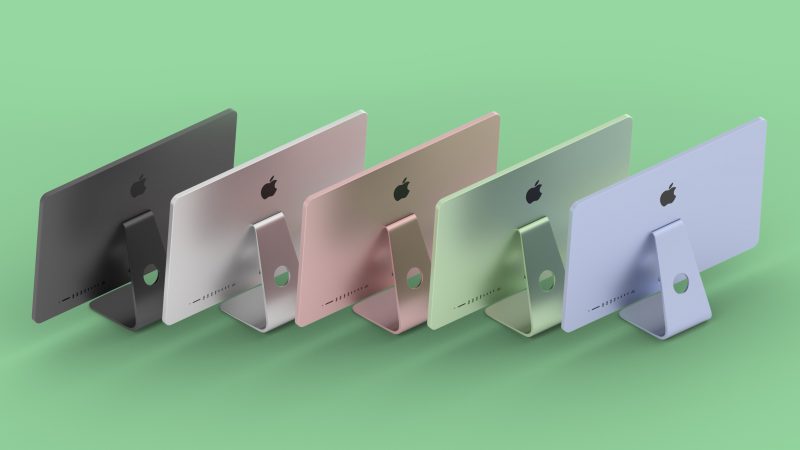 ---
Find books on Music, Movies & Entertainment and many other topics at our sister site: Cherrybooks on Bookshop.org
Enjoy Lynxotic at Apple News on your iPhone, iPad or Mac.
Lynxotic may receive a small commission based on any purchases made by following links from this page
Discover bright spots in Climate with 'The Year Earth Changed': live for EarthDay
Apple TV+ announces new original documentary special
As a way to take some of the doom and gloom away from reporting and documenting climate change and global warming, and to celebrate Earth Day 2021, Apple will showcase three new earth related programs. 
First, 'The Year Earth Changed' narrated by Emmy and BAFTA Award-winning broadcaster David Attenborough will go live on April 16th. In addition, both documentary series "Tiny World" and "Earth At Night In Color" will return for second seasons. 
The hour long documentary special release will focus on the way a world-wide crisis, in this case the global pandemic of 2020, can impact human behavior, travel restrictions, closed beaches and lock-downs, which then in turn, surprisingly in this case, led to positive adaptations by wildlife around the globe. 
"During this most difficult year, many people have reappraised the value and beauty of the natural world and taken great comfort from it," said Attenborough. "But the lockdown also created a unique experiment that has thrown light on the impact we have on the natural world. The stories of how wildlife responded have shown that making even small changes to what we do can make a big difference."

David Attenborough
All three productions also highlight the commitment of Apple TV+ & the respective production units (BBC Studios Natural History Unit, along with director Tom Beard for The Year the earth Changed) to the highest quality visuals and using the uplifting images to inspire through the beauty of the natural world. 
It is being called "a love letter to planet Earth, highlighting the ways nature bouncing back can give us hope for the future" in Apple's words.
In an educational and entertainment corollary to other green initiatives Apple is using its resources to influence positive change
Season two of "Tiny World", which was narrated and executive produced by Paul Rudd ("Ant-Man"), used high-end macro filming techniques to capture 3,160 hours of rarely seen "ant's eye views" of over 200 species. The resulting final edit gives the viewer entry into a fascinating miniature natural world that is otherwise unseen all around us. 
Paul Rudd's participation is not without note, since he is literally known as "Ant-Man" and therefore in a unique position to narrate and executive produce "an illuminating the ingenuity and resilience of the planet's smallest creatures".
As per Apple: "Returning for season two, "Tiny World," narrated and executive produced by Paul Rudd, grants viewers a unique perspective into the natural world, illuminating the ingenuity and resilience of the planet's smallest creatures. With over 200 species filmed and 3,160 hours of footage, the six-episode docuseries shares surprising stories and spectacular cinematography that spotlight small creatures and the extraordinary things they do to survive."
"Earth At Night In Color" is also returning for a second season with six all-new episodes narrated by Tom Hiddleston ("Avengers").
Once again, the production values are designed to wow and elicit awe, "with the use of cutting-edge cameras and a revolutionary post-production process, " the series seeks to reveal "nature's nocturnal wonders with striking new clarity."
Further, as per Apple;
"Some never-before-seen behaviors of animals after dark, captured using low-light cameras and light from a full moon, include elephants battling hyenas around starlit waterholes and kangaroos embracing under the cover of darkness to find a mate."
Other animals in the new season include pumas, polar bears, manta rays, and tiny planktonic life at night in the ocean. "Earth At Night In Color" is produced by Offspring Films. The series is executive produced by Alex Williamson and series produced by Sam Hodgson.
---
Find books on Music, Movies & Entertainment and many other topics at our sister site: Cherrybooks on Bookshop.org
Enjoy Lynxotic at Apple News on your iPhone, iPad or Mac.
Lynxotic may receive a small commission based on any purchases made by following links from this page